Baba Badji
Priority Area: Race, Racism, and Inequality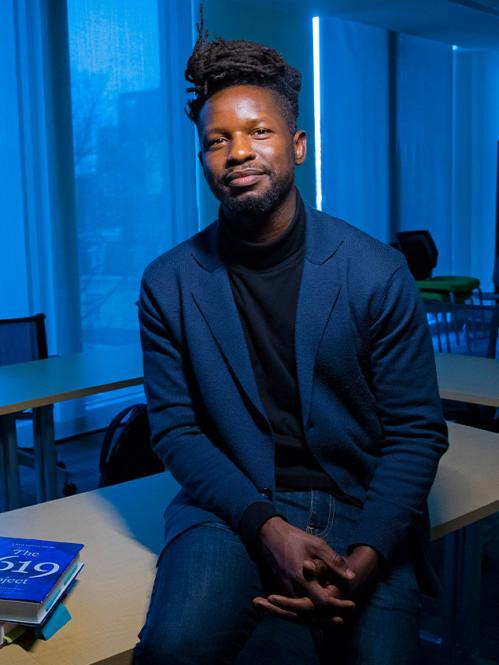 Appointment Details
Priority Area: Race, Racism, and Inequality
Disciplines: Comparative Literature, Poetry, Translation in the Francophone and Anglophone World, Postcolonial Literature and Theory  
Mentors: Dr. Evie Shockley and Dr. James Swenson
Mentors' Disciplines: African American and African Diaspora Literature, Especially Poetry: Twentieth Century/Contemporary Poetry and Poetics; Black Feminist Thought, Gender and Sexuality; Black Study; Visual Culture (Dr. Evie Shockley) | Eighteenth-Century Literature and Intellectual History, and Twentieth-Century Criticism and Theory (Dr. James Swenson)
School: School of Arts and Sciences 
Department: French & English
About Baba Badji
Baba Badji is a Senegalese/American poet, translator, and a comparatist whose multi-dimensional research studies Transnational Black Cultures, Critical Translation, and Poetry. Dr. Badji obtained his Ph.D. in Comparative Literature at Washington University in St. Louis. His work pursues an interdisciplinary analysis of Négritude that allows for a recognizing of the differences of people, cultures, and the systems of colonization within Africa and beyond. Dr. Badji's dissertation, The Narrative history of Négritude: Black Poetic Imagination in Anglophone and Francophone Cultures undertakes a position that defends, traces, and contextualizes the concept of Négritude so that it appears as relevant in today's thoughts of Postcolonial Literatures for the Black diaspora transnationally. It shows how Négritude from its inception was multisided and dynamic, elucidating that we should not disregard the commitments of Négritude as a concept of freedom that is alive and vibrant, and still holds for the Black diaspora today. As a Presidential Postdoctoral Fellow, Dr. Badji will be working on the turning the dissertation into a blook manuscript Négritude Polemics: Revisiting the Black Poetic Imagination in the African Diaspora, it refigures the Négritude movement as an unfinished project in the context of a globalized Blackness. It thinks Négritude as more than a poetics, but rather, an epistemology that formulates Blackness in ways that continue to be relevant for the enduring Black struggles of today. Dr. Badji will focus on polishing the scholarly manuscript and securing its publication. 
Dr. Badji's first full-length poetry manuscript, Ghost Letters, was longlisted for the 2021 National Book Awards. And during his time as a Presidential Postdoctoral Fellow, Dr. Badji will work on securing a publisher for Ghost Letters, Volume II, and a lyric novel, Madame Diawara, that is in progress. Aside from being a Presidential Postdoctoral Fellow, Dr. Badji was an inaugural Postdoctoral Fellow with the Institute for the Study of Global Racial Justice (ISGRJ) and Comparative Literature in New Brunswick. Dr. Badji was also an Inaugural James Baldwin Artist and Scholar in Residence at The University of Virginia Department of French. Dr. Badji was a Chancellor's Graduate Fellow at Washington University St. Louis, MO, and an Edward A. Bouchet Honor Society Fellow.   
In the Spring of 2024, Dr. Badji will teach Exile in Global French & Francophone Cultures: Sénégal & Algeria with the Department of French, Rutgers in New Brunswick.  
As part of ongoing mentoring and teaching activities, Dr. Badji is a committee member and faculty mentor for the Rutgers Global Justice Fellows Initiative with the Office of Study Abroad, Rutgers in New Brunswick.  
Dr. Badji is the Cofounder and Project Manager for The Dakar Translation Symposium that is a 5-days international, interdisciplinary, multilingual scholarly meeting centered on the African diaspora-(https://globalracialjustice.rutgers.edu/event/dakar-translation-symposium-africa-and-her-diasporas). The second edition of the Dakar Translation Symposium is scheduled for June 2024. Dr. Badji is also the Cofounder of the Center for Translation Studies and Cultures at Assane Seck University in Ziguinchor, Casamance, Senegal.