Information for International Postdoctoral Researchers
Global Impact
Rutgers University is home to a vibrant community of postdoctoral researchers from all over the world. In fact, nearly 40% of all Rutgers postdocs are foreign nationals.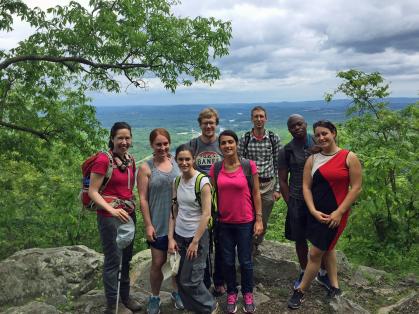 The offices below are your first point of contact for international postdocs and are your home away from home. Through one-on-one orientations, international postdocs receive important information about their visas and how to navigate the campus and state. You'll also learn about upcoming events and opportunities to connect with other international scholars. 
For Visa Matters, Rutgers Global – International Student and Scholar Services (ISSS) Offers Rutgers–Camden, Rutgers–New Brunswick, and RBHS international scholars immigration processing and answers your questions to ensure that your status remains legal while you're in the United States. The ISSS office also provides:
Personal advising sessions to resolve your particular issues and answer your questions
Cross-cultural, fun, and informative events and programs for you and your dependents
Communications on campus and community life and immigration updates   
Resources when you arrive to help you obtain a driver's license
Are you an incoming international postdoc?
In collaboration with Rutgers Global, the Office of Postdoctoral Advancement (OPA) has established the International Postdoc Network to connect incoming international postdocs with current Rutgers international postdocs. 
* Disclaimer: The International Postdoc Network is not a substitution for the official onboarding process or any required documentation for foreign nationals. For questions about this program, please contact the Office of Postdoctoral Advancement at opa@oq.rutgers.edu
Have a Question? 
Check our Frequently Asked Questions for answers to your general and visa-related questions. 
Considerations for Hiring a Foreign National as a Postdoctoral Researcher
As a first step for faculty looking to hire a foreign national as a postdoc, always consult Rutgers University's institutional policy on Employing Foreign nationals – Found in Rutgers Policy Library at 60.1.2 and on the ISSS website.
Eligibility for employment is determined by:
Assessing an individual's current immigration status (if already in the U.S.) and their immigration status history in relation to the position being offered.
Eligibility based on a combination of regulatory factors and Rutgers policy.
Some individuals may be only eligible for certain kinds of positions, or only for positions of limited duration.
Some individuals may not be eligible for employment at all. For this reason, it is critical that the office of International Student and Scholar Services be consulted prior to hiring a foreign national if there are any doubts whatsoever about that individual's employment eligibility.
To ensure completion of their background check, medical clearance, and acquisition of health insurance coverage and housing, it is highly recommended that all international postdocs arrive at least two weeks prior to their postdoctoral appointment start date before commencing work in your lab. 
For assistance with visas and other international services, here's who to contact:

*The OPA staff are neither licensed nor qualified to provide tax advising sessions. We recommend working with a tax professional.