Advancing Academic Excellence Across Rutgers 
As the fall semester begins, Dr. Moghe reflects upon the numerous academic achievements that continue to elevate Rutgers. In his welcome letter, learn more about the launch of the new Roadmaps for Collective Academic Excellence Initiative. This five-year, universitywide endeavor is designed to spark large-scale convergence between Rutgers academic and research programs, accelerating both student and faculty success in truly transformative ways.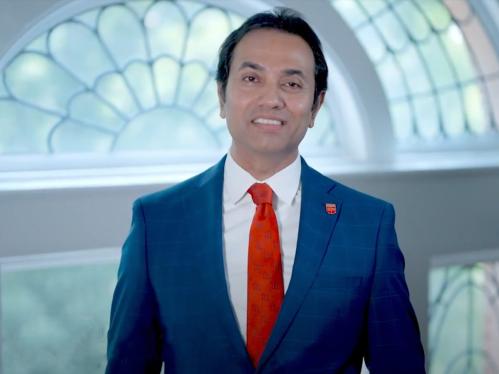 Messages to the Rutgers Community
Important messages from Prabhas V. Moghe, the executive vice president for academic affairs at Rutgers, The State University of New Jersey.
Advancing Academic Excellence Across Rutgers
August 31, 2023
EVPAA Staffing Updates
August 11, 2023
Call for Proposals: Innovative Conference for First-Generation College Students
August 2, 2023
Call for Nominations for the 2023 Daniel Gorenstein Memorial Award
June 20, 2023
The Educational Equity & Excellence Collaborative (E3C) Offers 2023–2024 Innovation Fund Grants
April 6, 2023
Call for Nominations: 2022–2023 Universitywide Year-End Excellence Awards
January 18, 2023
REMINDER: Gorenstein Lecture by Dr. M. Maral Mouradian
November 29, 2022
M. Maral Mouradian Receives the Daniel Gorenstein Memorial Award
October 19, 2022
Research Council Program Grants Announcement (2022–2023 cycle)
September 28, 2022
Institute for the Study of Global Racial Justice (ISGRJ) Newsletter
September 26, 2022
2022–2023 Rutgers University Research Council Program Awardees
July 7, 2022
Appointment of Vice President for University Libraries and University Librarian
June 29, 2022
Call for Nominations for the 2022 Daniel Gorenstein Memorial Award 
June 23, 2022
Announcement of Dr. Kim O'Halloran as Vice President for Academic Planning & Administration, EVPAA
May 17, 2022
Announcing Our 2021–22 Faculty Excellence Award Recipients 
April 26, 2022
PreDoctoral Leadership Development Academy: Call for Nominations
March 21, 2022
Rutgers Leadership Academy: Call for Nominations
February 28, 2022
Rutgers Announces the Inaugural Presidential Award for Excellence in Teaching by a Part-Time Lecturer
January 20, 2022
Call for Nominations: 2021–2022 Year-End Awards
January 20, 2022
Search for the Vice President for University Libraries and University Librarian
December 16, 2021
AY2022–2023 Research Council Awards Announcement
November 8, 2021 
Eduardo Molina Appointed as Vice President for Institutional Research and Decision Support
September 23, 2021
Appointment of Professor Decena at the Institute for the Study of Global Racial Justice
September 22, 2021
Investing in Faculty Diversity
August 5, 2021
Board of Governors Professorship 
July 8, 2021
Announcement of Michael E. Zwick as Senior Vice President for Research
June 2, 2021
The Daniel Gorenstein Memorial Award Goes to Mark Gregory Robson
May 24, 2021