M. Maral Mouradian Receives the Daniel Gorenstein Memorial Award
October 19, 2022
Dear Colleagues,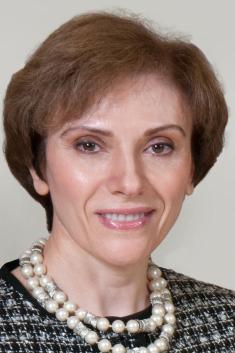 I am pleased to share with you that Dr. M. Maral Mouradian, Distinguished Professor of Neurology, Rutgers Robert Wood Johnson Medical School (RWJMS), has been named the 2022 recipient of the University's Daniel Gorenstein Memorial Award. A special award ceremony and lecture will be held Thursday, December 1st from 4:00–6:00 pm, in the Assembly/Board Room, Winants Hall, 7 College Avenue, New Brunswick. For more information on how to register for the ceremony and lecture, please click here.
The Daniel Gorenstein Memorial Award was established in 1993 by the family, friends, and colleagues of Daniel Gorenstein to commemorate Professor Gorenstein's innovative mathematical research, his skillful and enthusiastic exposition of his field, and his wise and devoted service to Rutgers University. The award was first presented in 1994 and is given each year to a Rutgers University faculty member noted for both outstanding scholarly achievement and exceptional service to the University. The roster of previous recipients is impressive and disciplinarily diverse. Dr. Mouradian will be the 29th recipient of this award.
M. Maral Mouradian, MD is a Distinguished Professor and the William Dow Lovett Professor of Neurology at RWJMS and was appointed the Founding Director of RWJMS's Institute for Neurological Therapeutics in 2018. She is an internationally recognized scientist and physician whose contributions to Parkinson's disease research have been transformational. Her research elucidates the molecular pathogenesis of Parkinson's disease and its treatment complications. Her discoveries have enhanced treatments, some of which were licensed by Rutgers to a start-up pharmaceutical company she co-founded. Further, her inventions have implications for other conditions, including Alzheimer's disease and other forms of dementia. She has been continuously funded for decades by agencies such as the NIH, the Michael J. Fox Foundation for Parkinson's Research, and the American Parkinson Disease Association.
The impact of Dr. Mouradian's contributions is documented in her more than 230 peer-reviewed publications and two books. She is Editor-in-Chief of Neurotherapeutics and serves on the boards of major academic and scientific organizations as well as numerous grant review panels. Her accomplishments have been recognized by several awards, including the National Institutes of Health Award of MERIT, Excellence in Research Award from the New Jersey Health Foundation, Rutgers Board of Trustees Award for Excellence in Research, Outstanding Medical Research Scientist Award from the Edward J. Ill Excellence in Medicine Foundation, and Honorary Alumni Award from RWJMS, among others. She is an elected member of the Alpha Omega Alpha Honor Medical Society, a Fellow of the American Neurological Association, a Fellow of the American Academy of Neurology, an alumna of the Hedwig van Ameringen Executive Leadership in Academic Medicine program, and a member of the Association of American Physicians.
Dr. Mouradian's dedication to training and mentoring the next generation of scientists throughout her career and at Rutgers is especially noteworthy. Many of her former trainees now hold leadership roles at their respective academic institutions, and she has been recognized with an NIH T32 grant for "Training in Translating Neuroscience to Therapies," one of only six such programs in the country funded by the NINDS.  Her effectiveness in mentoring extends to faculty as well, which led to her appointment as the inaugural Vice Chancellor for Faculty Development at RBHS.
Dr. Mouradian wonderfully captures the multiple ideals of this singular recognition named in honor of a scholar and intellectual who has made deep and lasting contributions to Rutgers and the world.
Sincerely,
 
Prabhas V. Moghe, Ph.D.
Executive Vice President for Academic Affairs
Distinguished Professor