2022 recipient of the Presidential Public Service Award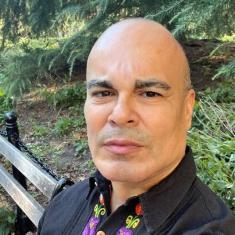 Based on initial reactions, Rigoberto González thought The Book of Ruin was a failure.
The epic poem, published in 2019, is haunting and urgent, summarized by one reviewer as "a voice raised against the void, speaking for tragedies past and sounding a wild alarm into an increasing insecure future."
At poetry readings, people fell silent, says González. They were shocked. Stunned.
By 2020, however, with populations all over the globe trapped in lockdown, González suddenly was being viewed as a seer.
In 2022, González won the university's Presidential Public Service Award, recognizing his extensive contributions outside the university, including his work as editor of a ground-breaking upcoming anthology, Latino Poetry, for the Library of America; for his work serving on several national prestigious boards, and his work locally with Newark high school students.
For González, the emotional event—the first in-person ceremony in two years, honoring 31 scholars, some who have served the university for decades and including nine from the Newark location—was another in many poignant moments at Rutgers.
González, who is director of the MFA program at Rutgers University–Newark, defines that job itself as an extraordinary responsibility—creating a nurturing environment in a competitive program, one of the top MFA programs in the nation, one that emphasizes emerging and diverse voices and where each student is fully funded. Such a role is rare for a Latino scholar, and González acknowledges the potential and promise that Rutgers saw in him.
"We don't get these jobs," he says.
González returns the sentiment. "I can believe in my institution as well."
"I remember not knowing anything about college, going to university and thinking this is my first step into being a grown-up that I want to be, into being a professional that I want to become, so that I can have a chance to live a good life. I remember exactly—I may not have articulated it that way when I was young—but man I felt it. This is why we have to continue. "
In the writing program, which is such a personal field—so many emotions being poured out in the open – González defines excellence as the challenge to students to elevate and invigorate their stories. This challenge is central to his public service work as well; he volunteers with City Verses, working with Newark high school students. For young writers, the narratives often are personal, confessional. González values their courage and then works to channel that courage.
"So that it's not just delivering heartbreak, but there's somehow hope, beauty," he says. "So it's not just a bleeding out or a cry for help but it also becomes agency and a voice of strength. Not just grief but a celebration of self, speaking its affirmation."
Ringing the Alarm Bell  
"All our transgressions, we hide in the earth," says González.
The Book of Ruin, which connects the greed of colonialism to our modern scorched earth, talks of "sour odors of crimes against the land" and a warns of a future where "home is a word as dead as mother."
Once the pandemic hit, people wanted to know how he knew. González seems surprised by the question.
"I'm not sure that I'm seeing anything that other people are not seeing," he says. "It's just that I'm actually sitting down to articulate some of that on paper. If you have conversations with people, I'm not sure that anybody would think differently—that we aren't doing so much harm that we might deserve what we're going to get.
"These are the alarm bells that I'm ringing, that's how I see my work."
González, the son and grandson of migrant farm workers, received his undergraduate degree from the University of California, Riverside. He holds graduate degrees from the University of California, Davis, and the University of Arizona. González is author of several poetry books and has won awards for his fiction and non-fiction work. His memoir, Butterfly Boy: Memories of a Chicano Mariposa—described alternately as angry and eloquent—received the American Book Award from the Before Columbus Foundation. González is the recipient of Guggenheim and NEA fellowships; he has won the Lenore Marshall Poetry Prize, The Bill Whitehead Award for Lifetime Achievement, and the PEN/Voelcker Award.
González admits to a dark, pessimistic view of life—which contrasts with his view of people.
"I still believe in people, especially young people," he says.
As an educator, González especially cherishes those first few days of the fall semester—"because you come to the university so full of expectations, so full of hope." In Newark, the MFA offices on Bleeker Street are cozy and conducive to study and conversations, with couches and reading nooks and a garden in the back. But each fall González makes a point of roaming the university, absorbing the energy and vitality.
"I remember being that child," he says. "I remember not knowing anything about college, going to university and thinking this is my first step into being a grown-up that I want to be, into being a professional that I want to become, so that I can have a chance to live a good life. I remember exactly—I may not have articulated it that way when I was young—but man I felt it.
"This is why we have to continue," he says—why universities have to continue, why educators must sound the alarm but also act.
"If we don't listen to those alarm bells, then we are participating, we are complicit in the destruction and in telling all these young people, 'How dare you come here and dream? How dare you come here and imagine?'"
Writing, González acknowledges, can often feel futile. With all the overwhelming problems of the world, why write? When students get discouraged, he asks them to think of the scholars of the future. In 50 years, what will researchers discover when they study the past?
"Is there nobody that will tell them that someone was thinking differently? That somebody was pushing back, that somebody was protesting? That's why you write your stories, that's why you write your poems."
Defining Latino Poetry
Latino Poetry: A New Anthology is an ambitious project, 500 pages encompassing work from 1510 to the present. The collection, scheduled for publication in 2024, seeks to bring these rich and diverse voices into modern conversations about democracy, equality, immigration, and identity. The volume is part of a national public humanities initiative funded in part by the National Endowment for the Humanities. González is editor of the anthology and is principal humanities advisor for the project.
Max Rudin, president and publisher of the Library of America, defines the project as a thought-provoking answer to a challenging question. "What can Latino poetry tell us about what America has been and who we might, as a nation, become?"
As editor of the volume, González promises to stick to his vision, recognizing not only Latino ancestry but also a literary ancestry. Through DNA, Latino poets may be able to draw a direct line to their ancestors, says González. Poetry, however, offers no such direct lines. Poets are citizens of the world, he argues. A Latino poet was not likely influenced by an early Chilean epic, but instead was influenced by work by American and European writers. "That's been our education," he says. "This is our history."
González is also working on his own collection of poetry, pieces based on the 1928 collapse of the St. Francis Dam in Los Angeles County. The collapse was caused by a design flaw, human errors unleashing a flood that killed more than 430 people. González is haunted by a particular photo of orphans, child refugees, many of whom were Brown. His work will not focus on the victims or survivors—"that may not be my story to tell." Perhaps, he says, this collection will be told from the point of view of the water.
He's also writing another novel, inspired in part by a student in the south of Spain who discovered his first novel, Crossing Vines, about migrant workers in Southern California, and who used the novel as the basis for his dissertation. In Spain, post-colonial studies are popular; in the south of Spain, where gay men come to escape, the stories in Crossing Vines—including the stories of gay men who are disconnected from their homeland—resonate. González divined the topic for his upcoming novel a few years ago, recognizing a gap in the literature, a novel that speaks to the gay Latino middle-aged man. Where are the stories? Where are the role models? So many gay men died during the plague. Then González realized: He's the role model. "I know how to do that. I've lived that." If Your Life Ends at 50 is a novel about aging. "How are we going to stumble through this? Who is going to take care of us?" The book is set in Albuquerque and Queens and focuses on the lives of several men after the death of a friend, some dealing with the loss by repeating the mistakes they made when they were young.
Newark as Inspiration
Paradise, to González, is Oaxaca, Mexico, and Old San Juan, Puerto Rico. These are the cities that inspire him.
In Oaxaca, says González, if someone is reciting poetry on a street corner, people will stop and listen. If a trumpet player sets up three chairs on the sidewalk, people will spontaneously create an audience. In the town squares of Oaxaca, bands are always playing and people are always dancing. In Oaxaca, says e, as an artist, you feel valued. In an ideal world, González would visit Oaxaca every four months.
González is accustomed to working on several projects at once, but is his most prolific when he's on vacation, getting up at 5 a.m. to write while the city is still sleeping.
"When you're away, the day opens up."
His recent visit to Oaxaca, however, was bittersweet. He stopped first at the rural home that had belonged to his grandparents, a couple in their 90s who'd died recently. Their home is in the heart of cartel country—prime farmland for growing drugs and dumping bodies. González fully expects the cartel to take over the house. It would be too dangerous for the family to think otherwise.
It's Rutgers that's home now, and González seems surprised by how much he loves Newark – surprised that he's decided to settle down somewhere outside California, somewhere east of the Mississippi.
"If I'm really going to be such an important part of the creative life of New Jersey, of the city of Newark, then I need to become a citizen of Newark," he says. "The idea of 'parachuting in' seems a little vulgar."