A Research Powerhouse
Rutgers stands among the highest-ranked, most diverse public research universities in the United States and is renowned for its innovative, interdisciplinary research. Every day, our labs, studios, centers, schools, and institutes conduct an outstanding range of research activities. Our faculty are leaders in their fields, many are members of the National Academies or hold other marks of distinction, and they're all hard at work creating new knowledge and educating the next generation of students. 
companies engaged in research
Breakthroughs from Investment
From breakthrough advances in fighting COVID-19 to life-saving cancer research at the Rutgers Cancer Institute of New Jersey, Rutgers is where research happens. Unrivaled in New Jersey, our research expenditures top $730 million annually. Our 300 research centers and institutes—New Jersey's largest research network—generate innovations and new ways of thinking that transform the world.
 
The Office of the Executive Vice President for Academic Affairs enables the vast research happening across Rutgers, working in conjunction with the Office for Research to operationalize services and support faculty research endeavors.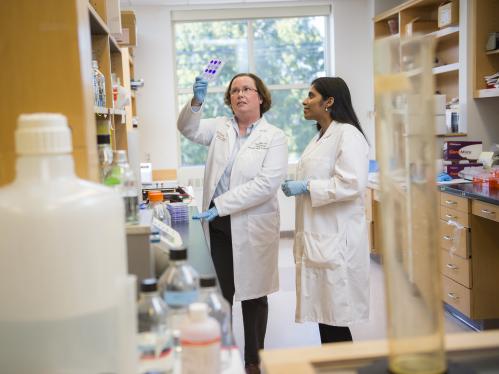 The Invisible Extinction
Rutgers is proud to host its first screening of the feature film The Invisible Extinction. The film centers around the work of Rutgers' microbiologists Martin Blaser and Gloria Dominguez-Bello in their decades-long research on the link between our bodies' microbiome—the bacteria, fungi, and viruses that help us digest food and keep us healthy—and diseases like diabetes, asthma, and autism. Dr. Prabhas Moghe will deliver opening remarks at the event. A Q&A will follow the screening with Drs. Blaser and Dominguez-Bello and filmmakers.
Rutgers Research Council Awards
The Research Council Awards program offers six annual award opportunities to support faculty research and especially to encourage scholarship in tackling challenging disciplinary problems in the sciences, social sciences, humanities, and creative arts. The council has proudly been providing internal awards to the Rutgers faculty for the past 80 consecutive years.
Thank you for your applications for this cycle of the awards program. The winners will be announced at the end of the spring 2023 semester.