A Research Powerhouse
Rutgers stands among the highest-ranked, most diverse public research universities in the United States and is renowned for its innovative, interdisciplinary research. Every day, our labs, studios, centers, schools, and institutes conduct an outstanding range of research activities. Our faculty are leaders in their fields, many are members of the National Academies or hold other marks of distinction, and they're all hard at work creating new knowledge and educating the next generation of students. 
companies engaged in research
Breakthroughs from Investment
From breakthrough advances in fighting COVID-19 to life-saving cancer research at the Rutgers Cancer Institute of New Jersey, Rutgers is where research happens. Unrivaled in New Jersey, our research expenditures top $730 million annually. Our 300 research centers and institutes—New Jersey's largest research network—generate innovations and new ways of thinking that transform the world.
 
The Office of the Executive Vice President for Academic Affairs enables the vast research happening across Rutgers, working in conjunction with the Office for Research to operationalize services and support faculty research endeavors.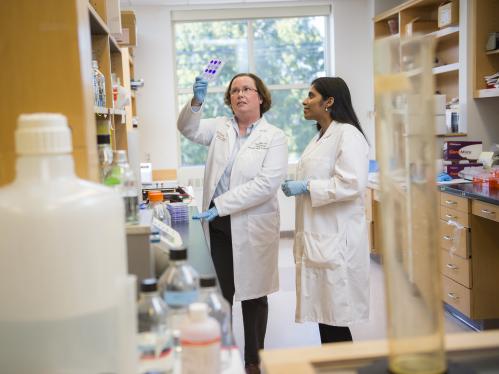 Celebrating the 50th Anniversary of the Protein Data Bank
An Essential Global Science Resource Enabling Breakthroughs in Biological and Biomedical Research and Education
RCSB PDB (Research Collaboratory for Structural Bioinformatics Protein Data Bank) is the world's only free, open-access 3D digital library for proteins, DNA, and RNA. A vital public data resource that drives discovery and innovation, PDB is led by Rutgers, in collaboration with University of California–San Diego/San Diego Supercomputer Center and University of California–San Francisco.
PDB Impact and Outcomes
180,000+ 3D structures of proteins, DNA, and RNA
2 million+ structure data files downloaded daily by users
1 million+ published scientific research papers relied on open access to PDB data
90% of FDA-approved anti-cancer drugs were facilitated by PDB structures [2010 to 2018]
1,400+ SARS-CoV-2 protein structures in PDB help combat the pandemic
$18 billion: That's the replacement value of data safeguarded by PDB