New Jersey Medical School Students Celebrate Their Future at White Coat Ceremony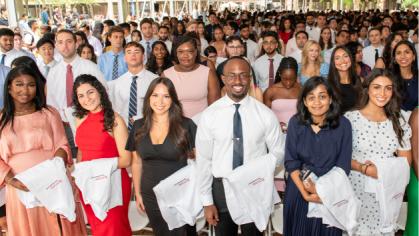 Rutgers New Jersey Medical School welcomed 174 future physicians who put on their white coats for the first time at the annual Barbara and Norman Seiden White Coat Ceremony – signifying their commitment to the medical profession.
"Congratulations to our exceptional first-year medical students on your White Coat Ceremony. Now that you have officially donned your white coats, remember that you are not only receiving a symbol of your commitment to medicine, but also embracing a lifelong journey of learning, compassion and healing," said Robert L. Johnson, the Sharon and Joseph L. Muscarelle Endowed Dean of Rutgers New Jersey Medical School (NJMS) and a 1972 NJMS graduate, at the August 10 ceremony. "Your passion and dedication will make a profound impact."
Receiving the white coat represents a rite of passage for medical students, signaling their unwavering commitment to the medical field and patient care. It stands as a milestone for the Class of 2027 on its journey to becoming knowledge seekers, medical practitioners, researchers, and devoted stewards of the community.