Victoria Abraira, Who Studies the Sense of Touch, Named Rita Allen Foundation Scholar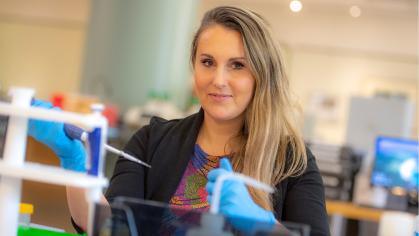 Victoria Abraira's grandmother had trouble seeing or hearing when she was in her 90s during the final years of her life. But Abraira said the matriarch of her family always knew when she came to visit simply from her touch.
"She could feel that it was me when I touched her," said Abraira, an assistant professor of cell biology and neuroscience in the School of Arts and Sciences. "She knew right away that I was there."
Abraira's research into the sense of touch and how it helps us to move, socialize, and feel pain has earned her recognition as a 2023 Rita Allen Foundation Scholar. She is one of only nine scholars to earn this year's award for early-career leaders in biomedical sciences whose research holds exceptional promise for revealing new pathways to advance human health. Abraira will join a distinguished group of honorees who have made fundamental contributions to their fields and historically have gone on to earn the most prestigious honors including the Nobel Prize.