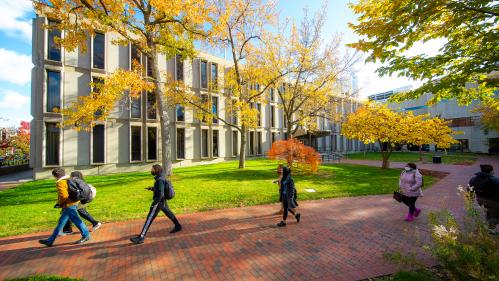 Diversity, Equity, Inclusion, and Access at the Office of the EVPAA
As the chief academic officer for Rutgers, the executive vice president for academic affairs (EVPAA) convenes the academic leads in the varied institutional units to promote policies and practices that foster inclusive excellence in undergraduate and graduate education and to ensure equitable opportunities for advanced interdisciplinary research across the university that can improve the human condition in New Jersey and throughout the world. Academic excellence and continued, impactful innovation require the wide variety of experience, expertise, insight, and knowledge that flourishes in a fully diverse, equitable, inclusive, and accessible academic environment. As the steward of Rutgers' academic mission, the EVPAA is committed to creating a culture of inquiry and accountability in which all members of our community thrive and have a role in bringing about meaningful change.
In summer 2021, EVPAA Prabhas V. Moghe charged a Diversity, Equity, Inclusion, and Access Planning Committee to create an Equity Action Plan that would guide the EVPAA's efforts toward inclusive academic excellence, both within the office and in support of the four chancellor-led units as they pursue their equity goals. The plan creates a standing Council for Strategic Planning Toward Diversity, Equity, Inclusion, and Access and delineates the mission of the newly reimagined EVPAA around the purpose of inclusive academic excellence. It proceeds over a Phase I (2021–22, 2022–23) and a Phase II (2023–24, 2024–25, 2025–26) by means of foundational steps that draw on the core work of our reporting units and that leverage the EVPAA's central convening role to create a space for realizing Rutgers' collective academic equity goals. These steps will result in a clear understanding of who we are and what we can be: our makeup, our policies and practices, and the guiding principles that shape our collective engagement as we undertake meaningful steps toward change.
EVPAA Council for Strategic Planning Toward Diversity, Equity, Inclusion, and Access
Consuella Askew, Vice President for University Libraries and University Librarian (DEIA co-chair)

Asenath Dande, Director, International Scholar Services, Rutgers Global

Jillian Hanna, Senior Program Coordinator, Office for Postdoctoral Advancement

Kimberly Guinta, Editorial Director, Rutgers University Press

Alice Hernandez, Senior Program Coordinator, Academic Initiatives

Shino John, Associate Vice President, Strategic Growth, Division of Continuing Studies

Eduardo Molina, Vice President for Institutional Research and Decision Support

Angela Mullis, Associate Vice President for Academic Affairs 

Henry S. Turner, Vice President for Academic Initiatives (DEIA Council co-chair)

Bill Welsh, Associate Vice President for Access and Disability Resources

Consuella Askew, Interim Vice President for University Libraries and University Librarian 

Itzamarie Chévere-Torres, Director, Office for Postdoctoral Advancement

Wei Dai, Assistant Professor, SAS; Institute for Quantitative Biomedicine

Asenath Dande, Director, International Scholar Services, Rutgers Global

Kimberly Guinta, Editorial Director, Rutgers University Press

Alice Hernandez, Senior Program Coordinator, Academic Initiatives

Shino John, Associate Vice President, Strategic Growth, Division of Continuing Studies

Sunita Kramer, Associate Vice President, Research and Experiential Education (DEIA co-chair)

Eduardo Molina, Vice President for Institutional Research and Decision Support

Angela Mullis, Associate Vice President for Academic Affairs

Henry S. Turner, Vice President for Academic Initiatives (DEIA co-chair)

Bill Welsh, Associate Vice President for Access and Disability Resources